Buying pigeons in the old days used to be a slog.
You used to have to either buy relatively local or go with the likes of the classified ads in a pigeon owner's magazine. The quality of the birds and their welfare was a thing you had to take on trust.
Then, with a bing and a beep and four decades of development, the internet came along and brightened all our lives.
Nowadays, you can order online – or use the online equivalent of those classified ads. You can pay for the birds you want directly online and have them safely and humanely shipped right to you.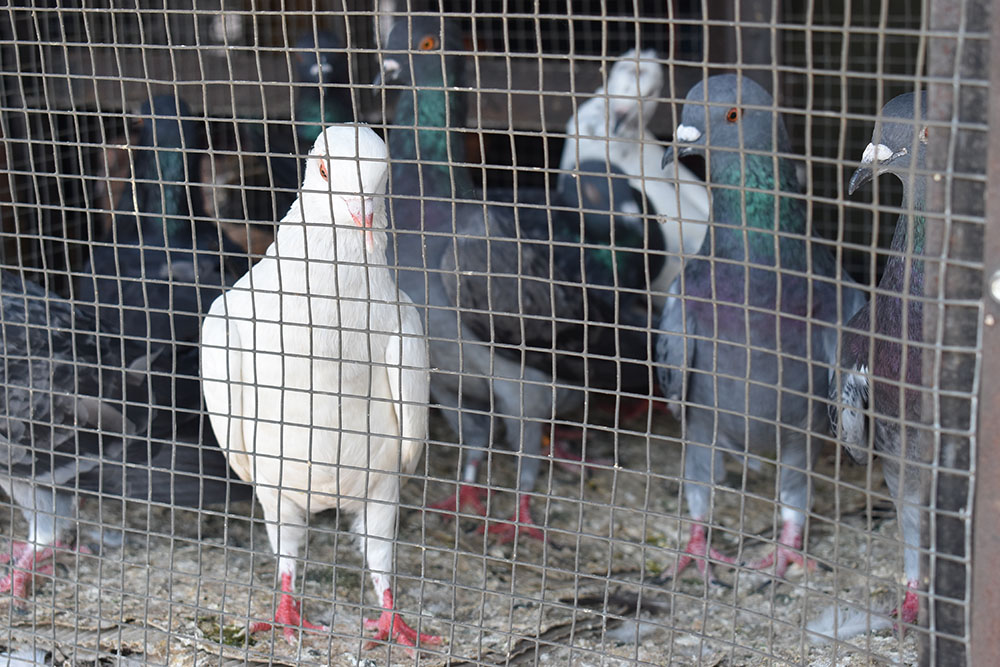 You can be sure of the breeds you're choosing, and with electronic invoicing, there's a clear trail of accountability if it turns out that what arrives with you is not what you ordered and paid for.
We've pulled together 17 places where you'll find pigeons for sale today.
Most of the places we've listed are based in the US, but we've also snuck in a couple of places from over in the UK and Europe, where pigeon raising, racing, and what they call "fancying" is both big and has a long, long history.
The Finch Farm is a long-established firm operating out of Vancouver, WA.
With a reputation for promoting bird breeding with an underlying sense of responsibility, the Finch Farm sells a wide variety of birds, from finches (naturally – the clue is in the name) through pigeons to parakeets, as well as a range of useful birdkeeping items like safe travel boxes and cages. Through responsible bird breeding, the company aims to encourage species survivability.
All birds from The Finch Farm are shipped via the US Postal Service, and standard delivery takes a few days. There is also the option of next-day shipping, at an additional cost.
White Pigeon Sales also has a longstanding reputation in the market for pigeons, and in addition to selling the live birds, White Pigeon has several other optional services it can provide for you before you even take delivery of the birds, like insurance, banding, DNA testing, and vaccinations.
It will also guarantee the sexing of your birds via DNA test for an additional fee.
If you want to be sure what you're getting, White Pigeon's a great option.
Now, Poultry Show Central is not a direct pigeon sales outfit. But it does know people who are.
Remember our ye olde magazine advertisements? Poultry Show Central has the modern equivalent in a handy pigeon sales directory.
As with White Pigeon, Strombergs Chickens is able to supply you with much more than chickens.
It has quite a wide variety of pigeons to choose from, but should you also feel like branching out, Strombergs can supply you with ducks and chickens, and even more exotic birds like peacocks, and even swans!
Strombergs Chickens actually has the widest variety of pigeons available, at least as far as we can see, with over 30 types listed on the website (including racing pigeons, if that's specifically what you're looking for).
Only ever interested in pigeons? Rather go direct to independent, individual breeders? You might do well with Pigeon Exchange. It
's another classified ad site, but it's specifically pigeon-driven. It's not "Oh, and also, there are pigeons." It's "Pigeons – first, last, and only" is a classifieds ads site dedicated exclusively to pigeons. Swans… need not apply.
Birdsnow – that's Birds Now, rather than Bird Snow – is a site that should be familiar in format. Think, Gumtree. Think Craigslist. Think birds, birds, and more birds.
Similar to Poultry Show Central, Birdsnow takes the old-fashion concept of pigeon want ads and breeder ads and brings it screaming into the 21st century.
If you can't find the birds you want on Birdsnow, either the website's having an off day or it may be the apocalypse.
7. Craigslist
Tread lightly, fellow pigeon breeder, we're heading into the unknown world of Craigslist.
Well, it's not unknown. In fact, it has quite the reputation as the place where almost anything in the world is for sale. That includes pigeons that are relatively local to you.
If any site is determined to replicate the old days of pigeon-buying – including the uncertainty of who you're buying from or what condition the birds have been kept in… it's going to be Craigslist.
Or… possibly Gumtree.
Many of the same pluses and minuses that applied to Craigslist apply to Gumtree too. It can be geo-localized, so you can get great deals on pigeons fairly close to you.
But part of the operating principle of these sites is that practically anyone can create an ad on them. That means you have no guarantee of quality or prior care.
Where Craigslist almost celebrates its "Anything goes" marketplace though, Gumtree – as the number 1 classified ad site in the world, is a little more protective of its reputation.
If you like the sound of Birdsnow, you'll like Bird trader too. It's a very similar set-up – classified ads for pigeons – only it deals in UK birds.
After a few less guaranteed sites, it's good to include Pets4Homes. While it's another UK site, it's a comparatively safe space for pigeon sales, because you make a deposit on your credit card via the site.
Pets4Homes holds the deposit until the transaction is complete and both you and the seller are satisfied.
Despite an unprepossessing name when it comes to dealing in live birds, Preloved is a UK site which regularly features pigeons for sale.
That said, like Craigslist and Gumtree, this is a free site available to anyone, so a) you may see the same ads across the three sites, and b) you have absolutely no guarantees about the conditions in which the birds you buy may have been raised.
Racing Pigeons
Racing pigeons entail a whole other level of risk.
If you're spending a fortune on a bird because of a close genetic tie to an existing champion – which in itself is no guarantee of quality (think of your own family and the variations of skills within it) – good for you.
If not, you could well be taking a big gamble on the amount of racing prowess your bird will have.
While for most types of pigeon, you might be able to find a bargain in a classified ad, for racing pigeons, you really should go through an experienced breeder.
Here are half a dozen reliable racing pigeon suppliers with the experience you need when you buy.
Hans and Evert-Jan Eijerkamp have been building a reputation for supplying racing pigeons around the world since 1950, and the business has pretty much been a by-word for quality and ethical practice for two generations.
Unsurprisingly then, the firm has raised several champion racing pigeons in more than 70 years of trading.
Based in the Netherlands, their birds will not be cheap – but if you wanted cheap, you're in the wrong game. Besides the reputation that Eijerkamp brings with it to people in the know, the quality of the birds as racers is likely to be impeccable.
The chicken people, yes. Let's just say if you're also in the game of supplying peacocks and swans, you're going to know a thing or two about elite birds.
The Stromsbergs have the Eijerkamps beaten by several decades of running a family bird business – they started in 1921 and are on generation four in the business.
Where Eijerkamp offers European chic, Strombergs will cater to the beginner too, with birds far more in keeping with a beginner's budget.
That's not to say all their birds are also-rans (also-flews?) though – they have birds for sale that are related to major prize winners.
So while there's no such thing as a racing certainty, you might find yourself landing lucky with a Stromsbergs gamble.
If you're looking for variety, choice, and quality in your racing pigeons, check out Ganus Family Loft.
Including lots of racing pigeons with international recognition and plenty of National Ace birds too, the high quality of their breeding stock has allowed Ganus to get serious about flying ability and speed.
So, if you're aiming to get some pigeons in your coop with dynamite potential, Ganus could be the place you need to be.
Yes, you're absolutely right. The Goldstar Lofts website has the garish and clunky look of a pop-up advertisement for Viagra.
Persevere. Beyond the clunky construction and the vividly interesting color choice, Goldstar has been supplying impressive racing pigeons since the early Seventies – including a handful of champion birds.
PIPA is a little something different. It doesn't supply birds directly, but it is a world-respected bird-brokerage, and it frequently holds online auctions, so you can easily bid and could well find yourself the owner of a world-class bird without necessarily paying top dollar.
The time difference can sometimes be a factor, as PIPA is based in Belgium rather than the US, but if you're willing to set an alarm, you can win some top quality racing pigeons.
CBS (at least in this context) stands for Continental Breeding Station, and that tells a lot of the story of the company.
Its two co-founders travel around Europe, picking up the best pigeons to find their breeding stock.
That means every pigeon carried by CBS is related to some champion birds.
That's the benefit of an exclusive breeding stock – it means you can have at least some confidence that the birds you get have the potential for greatness in them.
Whether you're just starting out keeping pigeons, moving up into racing, or have been doing it for decades, there's a wide range of online options for procuring the birds you want.
From the old-fashioned classified ads, now online and highly searchable, through to respected and efficient breeders that offer to vaccinate and DNA check your birds before they send them out to you, the world of pigeon breeding has seldom been easier.
Even world-class racing pigeon suppliers and brokers are available to you at the click of a few buttons. So whatever kind of pigeons you want, you can get them online.